Ahrefs is a powerful tool for digital marketers and SEO professionals. It offers a wide range of features, including comprehensive backlink analysis and reporting, accurate keyword tracking and ranking analysis, and robust keyword research capabilities.
However, as with any tool, there are pros and cons. Some users have reported issues with data accuracy, and others have found the tool to be complex and difficult to use. Additionally, the cost of some plans can be high, and there is limited social media analytics and customer support for certain plans.
Given these limitations, many marketers may be searching for alternatives to Ahrefs. Here are eight Ahref alternatives that are worth considering:
Best for: Marketers who want a more intuitive UI than Ahrefs
One of the most popular Ahrefs alternatives is SEMrush. This tool offers a range of features for digital marketers looking to optimize their SEO efforts.
Their main features include keyword research tools, website audit tools for identifying potential issues with your site's SEO performance, competitor analysis tools for seeing how your competitors are doing in terms of SEO performance, and backlink analysis tools for understanding which websites link to yours.
Pricing starts at $99 per month with additional plans offered at higher prices depending on your needed services. Compared to Ahrefs it offers fewer features but provides an easier interface making it better suited for beginners or those who don't need advanced features or analytics.
Is SEMrush worth it?
Like any tool, SEMrush comes with a learning curve. Given its wide range of features that may take a bit longer than a specialized tool. In my experience with SEMrush and tools like it, you'll probably gravitate to a smaller handful of reports and functionalities that align best with your role and marketing objectives.
Here's what real SEMrush users are saying:
"SEMrush is a great tool and you won't go wrong using it. I've been using it for a little over 10 years now, close to when they launched. They do have some tools that you won't get on other platforms, and the value of those tools is going to be dependent on your experience and business goals. Not everyone understands their value, and not all businesses can utilize every tool."
"I finally convinced my company to get SEMrush. I used Ahrefs [previously] but fancied SEMrush more. So far we are happy with it."
"SEMrush is a kind of swiss knife. Can do a lot many things & they keep adding new features. While Ahref is more about SEO."
Best for: Marketers on a budget who have simple needs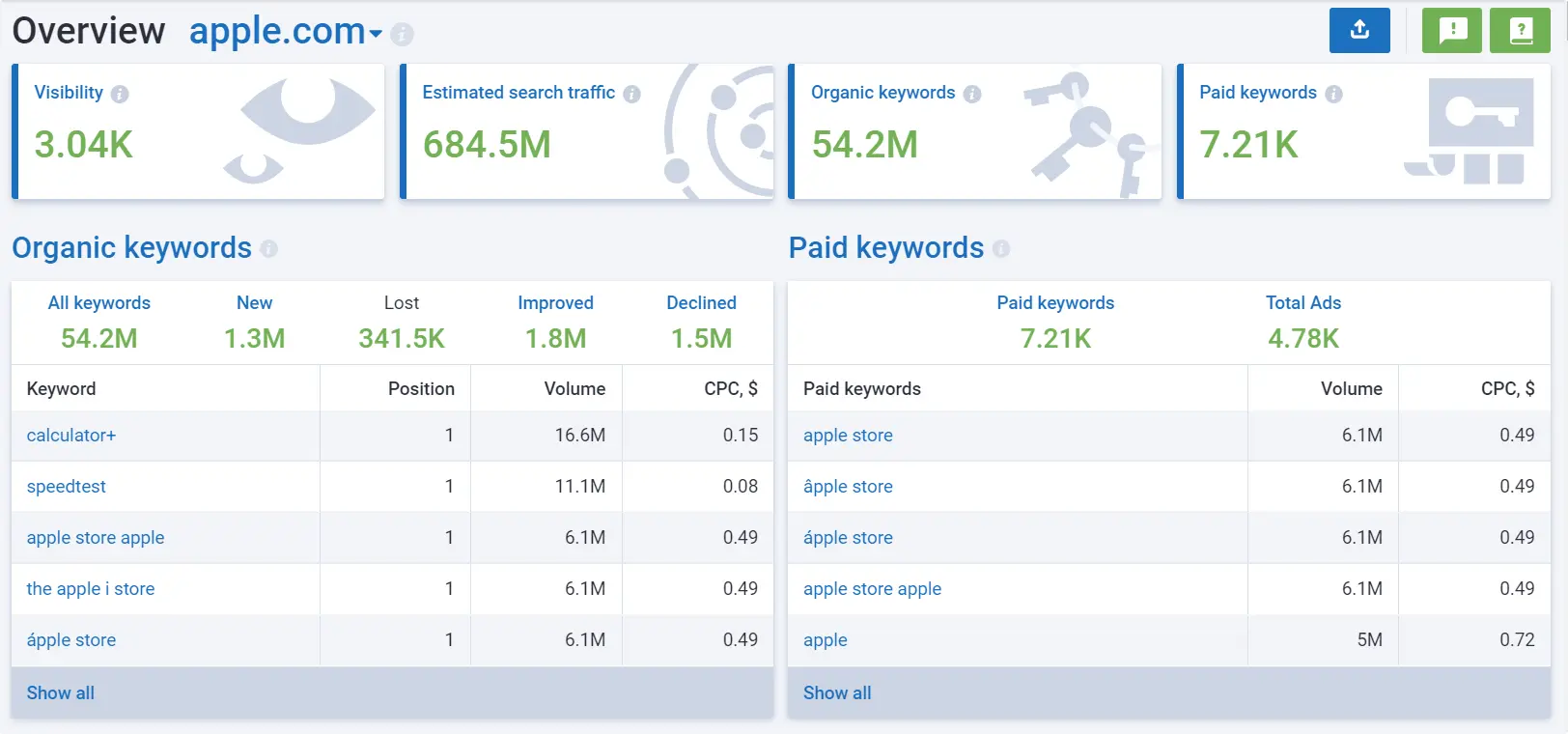 SERPstat is another popular alternative to Ahrefs that offers a range of features such as keyword research tools, website audit capabilities, competitor analysis capabilities, and backlink tracking capabilities.
It also offers PPC campaign analysis so you can easily track the progress of your campaigns and adjust accordingly if needed.
Pricing starts at $69 per month with additional plans offered at higher prices depending on your needed services. Compared to Ahrefs it doesn't have as many advanced analytics but does offer an easy-to-use interface which makes it great for beginners or those who don't need more complex data-driven insights from their tool.
Is SERPstat worth it?
SERPstat is great for the marketer who tests out Ahrefs and SEMrush and finds that they're way too much for what they need (especially considering the price). SERPstat has a narrower set of features at a more approachable price.
Here's what real SERPstat users are saying:
"It's a good solution which has the bare essentials (auditor, keyword suggestions, rank tracker, link checker). Great for the price you're paying."
"Serpstat is a great tool, been using it for more than a year now. It's pretty keyword research/competitor research based, so don't expect much on the on-page department. But, it's great for the money."
"Since it was cheap, I bought it myself to try it out for my company. For what I need it for, it's about as good as SEMRush but highly out-shadowed by Ahrefs."
Best for: Marketers on a budget who have omnichannel needs
SISTRIX is another great alternative to Ahrefs that has a more advanced feature set than SERPstat. Their core features include keyword research tools, website audit capabilities, competitor analysis capabilities, backlink tracking capabilities as well as content optimization tools.
Their reports also include Amazon and Instagram data. So, if those are important channels for your business then this may be the Ahrefs alternative for you.
The pricing starts at 99 Euros/mo. and varies depending on what services you need so make sure to contact them directly if interested in learning more about their pricing plans.
Is SISTRIX worth it?
SISTRIX is an approachable "all-in-one" SEO analysis tool from a pricing standpoint. If you're OK sacrificing some firepower and accuracy as compared to Ahrefs, then SISTRIX has potential to be a great fit for you.
Here's what real SISTRIX users are saying:
"SISTRIX allow me save so many hours on analysing the SEO of websites. You have a lot of information at a glance. This is very helpful in daily work. Also, SISTRIX is the perfect tool to discover how your website was affected with a Google Core Update."
"The visibility graph is the most helpful thing about this tool. It show's organic visibility and can translate information to a client really easily. From my experience, the data is really accurate too, and it's helped me sell to clients in audits repeatedly. UX is very poor. It's not inline with some of its competitors and could be improved with some very simple steps. It's got a lot of data in, but little explanation as to what a lot of it means - so you only end up using key parts of the tool."
Best for: Marketers that are turned off by Ahref's complex UI
Moz Pro is another great alternative that focuses on providing users with an all-in-one suite of SEO tools including keyword research tools, website audits tools for identifying potential issues with your site's SEO performance as well as local search engine optimization (SEO) capabilities which allow users to optimize their sites specifically for local searches.
Like some of the other lower-cost tools on this list, their pricing starts at $99/mo.
Is Moz Pro worth it?
Moz has a great suite of tools for SEO beginners and companies with local SEO needs. If you have a wider national or international reach, then SEMrush or Ahrefs will likely fit your needs better.
Here's what real Moz Pro users are saying:
"I like Moz for keyword research and their chrome extension. I prefer SEMrush for competitive info. So it depends on what you are using it for. Moz is less complex and easier for beginners."
"I've been doing SEO for a long time. Moz used to be the standard back when Rand was running things, after he left things went from bad to worse and while they did acquire STAT which is one of the best rank tracking platforms out there for the price, it didn't really give much to the Moz platform."
Best for: Enterprise marketers
Searchmetrics is now part of Conductor. It offers a wide variety of features designed specifically for enterprise marketers looking to optimize the performance of their sites including keyword research tools and competitor analysis capabilities.
They have dedicated SEO advisory teams that can augment your in-house or agency teams. Searchmetrics can also provide you with complex search marketing data to support your market research projects.
Pricing is not advertised on their website but it's known to be more expensive than Ahrefs. Since they're targeting enterprise customers, you can expect Searchmetrics to be at least a 5-figure investment.
Is Searchmetrics worth it?
If you work at an enterprise-level company and want dedicated support to come along with your SEO tool purchase, than you may find Searchmetrics to be a great fit.
"It is solving our problem of presenting organic visibility across time, which then opens up conversations around on and off-site content strategies. Enables higher level conversations, particularly around performance against competitors and whether traffic is commercially viable and/or relevant."
"It requires some technical background to be able to leverage the full potential of the platform but they have a very helpful and knowledgable CS team to train people on the tool."
"Sadly searchmetrics is very expensive so you probably have to share with some like-minded people working in the field. When I say expensive I mean like scandalous, exorbitant expensive."
Best for: Marketers who need deep UX and site performance analysis
Ryte offers users a comprehensive SEO and site experience platform. It stands out from competitors like Searchmetrics, SEMrush and SERPstat in providing an exceptional feature set around UX. Quality assurance, accessibility and compliance are all focus areas for Ryte that a tool like Ahrefs cannot touch. However, if you're looking to save money over Ahrefs, you won't find that to be possible with Ryte.
Is Ryte worth it?
If you find Ahrefs UX and accessibility tools to be severely lacking, then you need to do a demo of Ryte. Here's what real Ryte users are saying:
"With Ryte, it is possible to monitor the website's technical aspects at a realistic cost. In my opinion, anyone that frequently updates their website cannot avoid employing such a method to identify issues. Ryte is the most excellent option because it allows you to rapidly get a clear picture by highlighting potential issues while also allowing you to conduct a much more in-depth examination."
"Ryte provides great tools to monitor technical issues of a website as well as search performance. Many reports can be customized so they fit individual needs. Ryte further saves Search console data for a longer period of time than Google allowing long-term analyses. At times there are different bugs concerning crawling, graphs or data. But support is great providing quick answers and solutions."
Best for: Enterprise marketers
Brightedge is another enterprise search marketing tool like Searchmetrics. It's got a comprehensive feature set that rivals Ahrefs, but it carries a much higher price. Brightedge targets enterprise customers whose marketing leaders require reliable reporting and dedicated support.
Is Brightedge worth it?
"Brightedge offers a large variety of tools for SEO that are both insightful and remove many tedious activities and the need for external platforms. My favorite feature is how you can leverage multiple search engines and track keywords from different local markets. BrightEdge is only held back by its large number of tools and options creating a large learning curve and analysis paralysis.
"You know it would be okay that they charged an insane amount of money for their product if it actually worked and was best in class. As someone who knows a lot about their platform from personal experience, I can tell you right now it's not built well, things break often, and their flagship keyword research product Data Cube hasn't even been spitting out accurate data recently."
How do I Choose the Best Ahrefs Alternative for My Needs?
When it comes to SEO tools, choosing the right Ahrefs alternative for your needs can be both an exciting and overwhelming task. Before making a choice, consider what you are looking for in a tool.
Related reading: The Best SaaS SEO Tools
What's your budget?
Do you need something free or low-cost? Or, do you work at an enterprise-level company where there's more to spend? Quickly eliminate tools from your consideration set by examining their pricing first.
Which features are a "must-have" for your role?
Each tool has its strengths and weaknesses. And, chances are you won't use every single feature of the tool you purchase. Here are tool recommendations by role:
SEO tacticians: SEMrush or SERPstat
Marketing beginners or generalists: Moz Pro or SISTRIX
Enterprise marketers: Brightedge or Searchmetrics
UX marketers & compliance roles: Ryte
Ultimately, the SEO tool you choose should be tailored to your individual needs in order to maximize results.
Take advantage of free trials!
All the tools mentioned above have some type of free trial that you can take advantage of. If it's not advertised on their site, contact their sales teams and ask for a free trial. In nearly all cases, one will be happily provided to you.
If you need help selecting your Ahrefs alternative or require help with your SEO strategy more broadly, then don't hesitate to contact the experts at Uproer!