A recent Semrush study found 33% of content marketers audit their content twice a year, and over 20% audit more than twice a year.
Producing content isn't just about hitting publish and crossing your fingers. It's about proactively auditing and refreshing content so that it stays fresh and relevant for people reading it, and for search engines.
With this strategy, you won't have to triple content production to start to see positive results.
Content refreshing is the practice of editing and updating existing articles on your site to give them a chance to better rank and perform. It can often be a considerably lighter lift than drafting an article from scratch, making it the perfect additional layer to add to your current content strategy.
In this article, we'll cover how we build content refresh strategies, and the tactics we use for updating articles at Uproer. Let's get started!
Before the Refresh: Build the Strategy
Blindly approaching content refreshing will not yield the results you're expecting. Instead, take a step back to identify your priorities and establish a cadence.
Identify Priority Updates
Priority can be based on a variety of factors. We like to sort by traffic and conversions, and begin with the highest. Determine your priority variable based on KPIs that are important to you or your client. Here are a list of ideas to consider:
By traffic
By striking distance (articles ranking on the second page)
By revenue/transactions
By CVR/conversions
By publish date
By funnel
By CTR
By seasonality
We pull this data using Screaming Frog or Sitebulb. Once we have a list, we add it to a tab in our content calendar spreadsheet organized by priority level.
Establish a Cadence
You'll want to establish a cadence to see consistent results from your content refreshing. This will likely depend on how often you're publishing new content. If you're writing eight articles per month, you may consider doing a lower number of updates. If you're doing two new articles per month, you may do 4-6 content updates.
It's also important to consider how much content already exists on the site. If there is an overwhelming amount, you can opt to do a higher number of monthly updates based on the lift. This is something we change based on our client's websites and content priorities.
How We Refresh Content for SEO
Once you've built your strategy, it's time to execute. Here is what we keep in mind when approaching content updates:
Review the Competition
Reviewing top ranking sites for an article topic can give valuable insight into what works and what doesn't in search engines. When reviewing competitor sites, we ask:
Does high ranking content cover a certain topic or provide a digital assets type that our article doesn't (images, videos, copy, etc.)?
Does high ranking content have a different angle on the topic?
Does high ranking content have more internal and external links?
What is the word count of high ranking content?
Taking the time to review the competition is a simple way to surface creative ideas for your next content refresh.
Review Content Structure
You may notice that the structure of an article is not organized in a way that is easy for readers to understand. Here are some structural elements that we consider while refreshing articles:
Is the content structured in a way that is easy for people to understand at-a-glance if they were to skim the headings?
Does the content structure cascade in a natural way or flow naturally?
Does the content stay on topic? Or does it cover multiple topics that can be broken into stand-alone posts?
Is the text broken up in easy-to-read chunks instead of walls of text?
Is the content easily readable and doesn't contain unnecessary fluff? We use the Hemingway Editor to check readability. If the article scores higher than a Grade 5-6, chances are it can be simplified.
Just like humans, search engines are able to "scan" content for context clues. An article with a good structure is more likely to rank in search engines because it is easy to understand and navigate.

Analyze Search Intent
Before updating an article, we review the SERP for the target keyword. If the article we're updating isn't ranking for the desired topic, it may not contain the relevant keywords and information needed to match the search intent for a topic.
For example, if we're updating an article that's about Fourth of July party ideas, but the article is titled "Fourth of July" and only contains one party idea, it likely isn't matching the search intent for the topic.
Search intent is why someone looks for a specific answer. If we aren't meeting people where they're searching with the correct information and keywords, articles are less likely to be seen in search results.
Improve Conversions
For almost all of our content strategies, conversions are the most important KPI. In the end, our outcome-driven strategies are designed to ladder up to our client's broader business goals and objectives. Much of that revolves around driving customer acquisition.
The ultimate goal is to guide people's next click. Below are some steps we take to improve this conversion flow on existing articles:
Adding and updating links to conversion-focused pages
Adding CTA boxes to old posts
Creating "customized" CTA boxes based on topics
Implementing "shoppable" carousels
Edit Outdated Content
Some articles may cover topics that are outdated to the company, topic, or industry. Having a large number of outdated articles can negatively impact search rankings, and people's experience on the site.
Here are a few steps we take for reviewing outdated content:
Use a crawling tool to pull publish dates for each blog post
Work with the client to review outdated content and clarify which information needs to be updated
If necessary, conduct full re-writes of outdated articles without modifying the original URL
Redirect articles that are no longer relevant to the site
Consolidate articles that cover similar topics
Rewrite or No-index Thin Content
If a page is not useful to readers visiting it, or the client, chances are it can be rewritten or redirected. We identify articles that can be redirected by pulling traffic and conversion numbers for each URL. Articles that receive little to no users over the course of a few years are likely thin or not contributing value for the client.
There may also be times when a thin article covers a topic that is relevant to the client's product or service. In that case, we consider doing a full re-write of the article. Below is an example of this, can you guess when we published the re-write?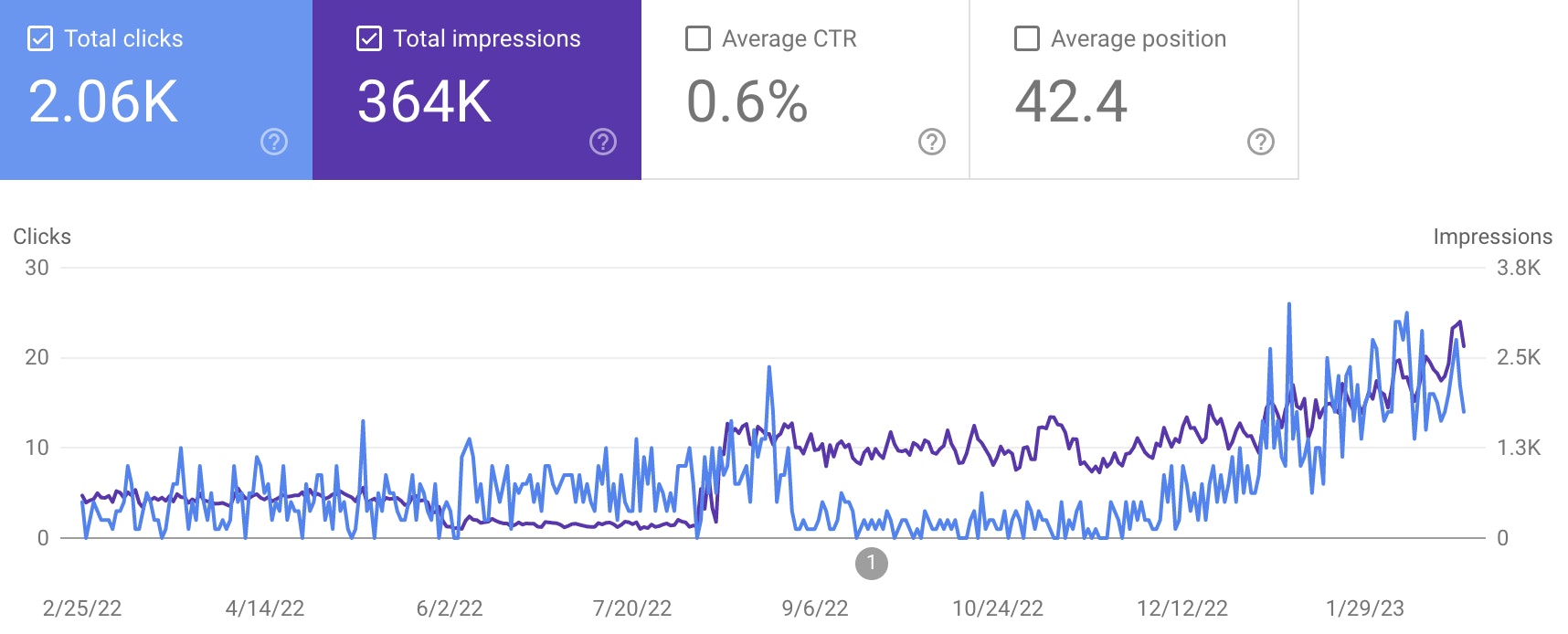 Review Above the Fold Content
Above the fold refers to content that is visible without scrolling on a page. While Google gives preference to content above the fold, having a large image or wall of text can result in a poor user experience.
We keep an eye out for opportunities to improve that "first sight" content by ensuring the first header and intro is easily scannable. Oftentimes the culprit is an oversized image that takes over the screen.
Content Refresh Examples
Let's take a look at some of our content refresh strategies in action:
Online Learning Platform for Coding
Treehouse is a platform for learning coding online. In our initial audit we noticed their blog had a significant amount of articles, some dating back to as early as 2006. Content updates quickly became an important part of our ongoing strategy.
We conducted four updates per month, alongside eight new articles. Our refresh strategy included:
Creating a "kill list" of thin and outdated articles to redirect
Adding new sections to relevant content
Adding target keywords to titles, headers, and copy
Updating the publish date for articles that were significantly updated.
Doing this on a consistent basis quickly turned into a successful way to turn traffic around on top-performing articles. Here's a snapshot of one article after updating:

Women's Clothing Boutique
EVEREVE is a national women's clothing boutique. We write four new articles per month and update 2-3. At the beginning of our engagement, we no-index and redirected 20+ thin content articles, and kept the rest for updating.
Some of our most effective updates have been to add an extra section in answering an FAQ, or adding in extra internal links.
Below is an article we originally updated in 2021. It's a topic around summer outfits that don't include shorts. We updated it to include relevant seasonal keywords. Since then, it's been one of our top-performing seasonal articles:

Scheduling & Time Tracking Software
We work with an employe scheduling and time tracking software company. With our consistent content refreshing, we reported numbers like +14,100% increases in users to individual articles. Our strategy for updating the hundreds of posts found on their blog includes:
Updating bottom-of-funnel content with a clear conversion intent and catering to our audience that is ready to buy.
Analyzing blog post performance in Google Analytics and prioritizing content that previously drove substantial sums of organic traffic that have since tapered off or declined over time (see screenshot example below).
Updating top performers on an annual cadence (at the very least) to make sure we aren't leaving any chips on the table with the content we know is satisfying our target audience and search engines.
By prioritizing content updates and leveraging existing content assets, the site has been able to stay competitive in an ultra-tight digital landscape with several big market players.

Online Password Manager Tool
One of our clients offers a software for managing passwords online. Content refreshing was a key part of our content strategy due to a backlog of old content. Many articles simply needed to be retargeted with relevant keywords. Below is an example of the number of keywords an older article ranks for, can you tell when the update was?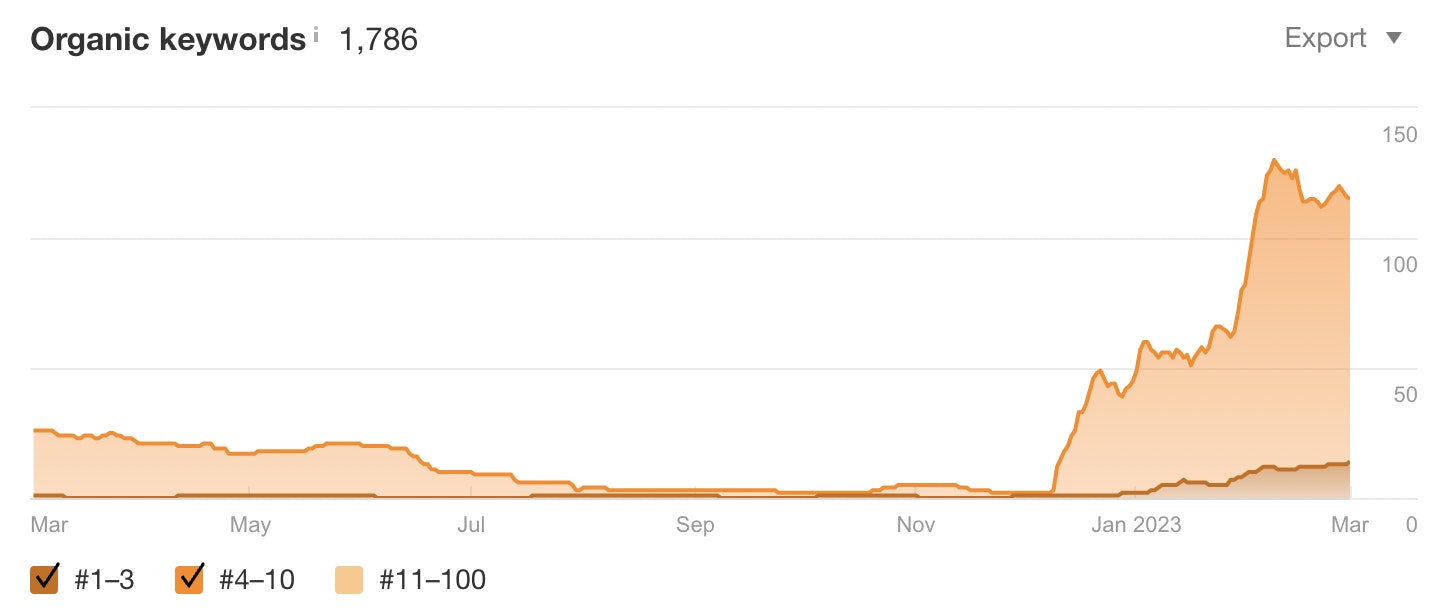 If you want a simple way to help your blog content perform better, faster, content refreshing is a great way to start. Want to learn more about how we build effective content strategies for SEO? Check out our approach to SEO copywriting, or schedule a call to chat today!