Are you banging your head against the wall trying to solve for your poor SEO performance? Your well-balanced SEO strategy is firing on all cylinders. Yet, your SEO KPIs are nowhere close to meeting expectations.
You're overlooking one critical ingredient of a high-performing SEO strategy: Internal linking. Search engines don't exist without links. This fact makes internal link optimization critical for SEO success.
In this case study, we'll show you how to accelerate your SEO growth with internal linking. Throughout, we'll share how our client, IFTTT, drove 33% Y/Y organic traffic growth by making internal linking a priority.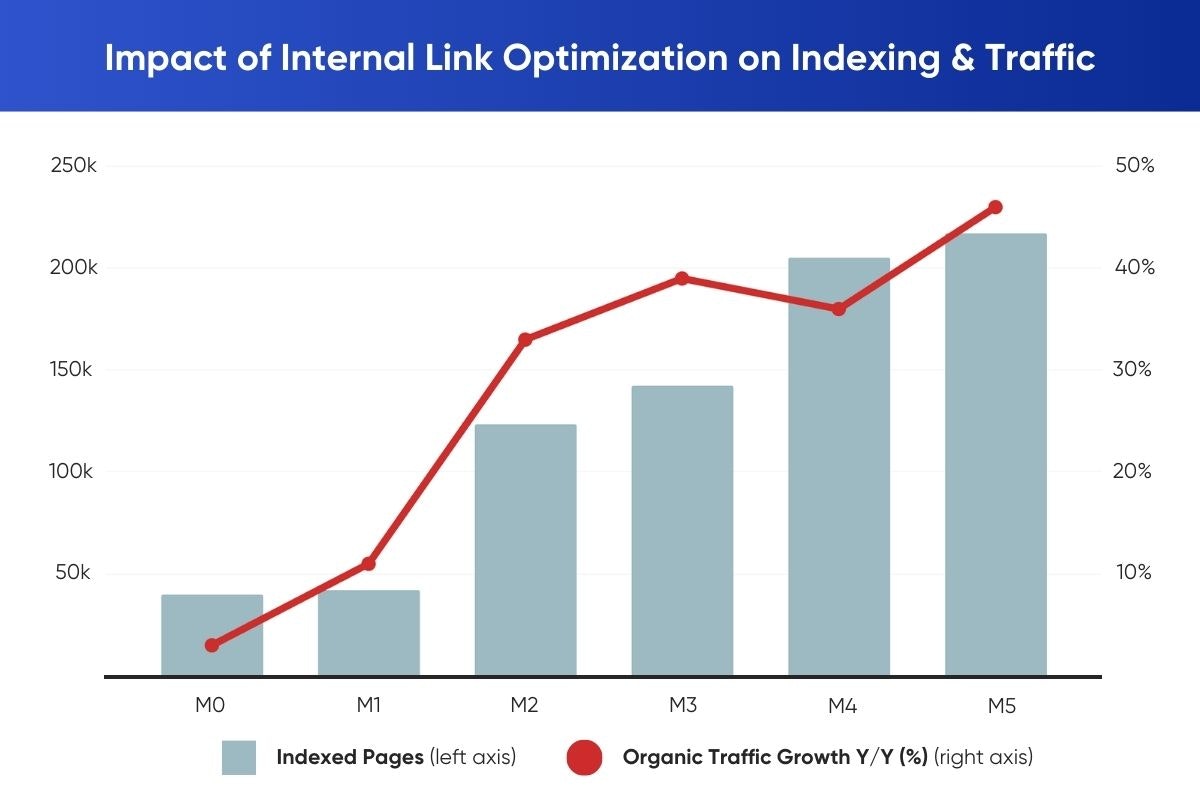 The Challenges of Internal Linking
If internal link optimization was easy, then everyone would do it. But, it's an SEO tactic that can be hard to diagnose and even harder to implement. Here's why:
Websites of any size can suffer from poor internal linking
But, websites with complex internal linking systems, like SaaS integration platforms or ecommerce companies, can be especially vulnerable. When built without guidance from a competent SEO, a subpar internal linking system is all but guaranteed to hold back organic search performance.
Out-of-the-box JavaScript frameworks don't help
In recent years, the growing popularity of JavaScript frameworks has unintentionally caused an explosion of internal linking issues. Many websites that have adopted these frameworks have "de-optimized" their internal linking. Websites that once had searchbot-friendly HTML links have been revamped with JS-rendered links that searchbots can't crawl.
Internal linking improvements can be resource-intensive
Fixing internal linking issues is rarely a simple task. For large websites, it can require a complete redevelopment of the current internal linking systems. For small websites, it can be a manual lift to get tons of internal links built.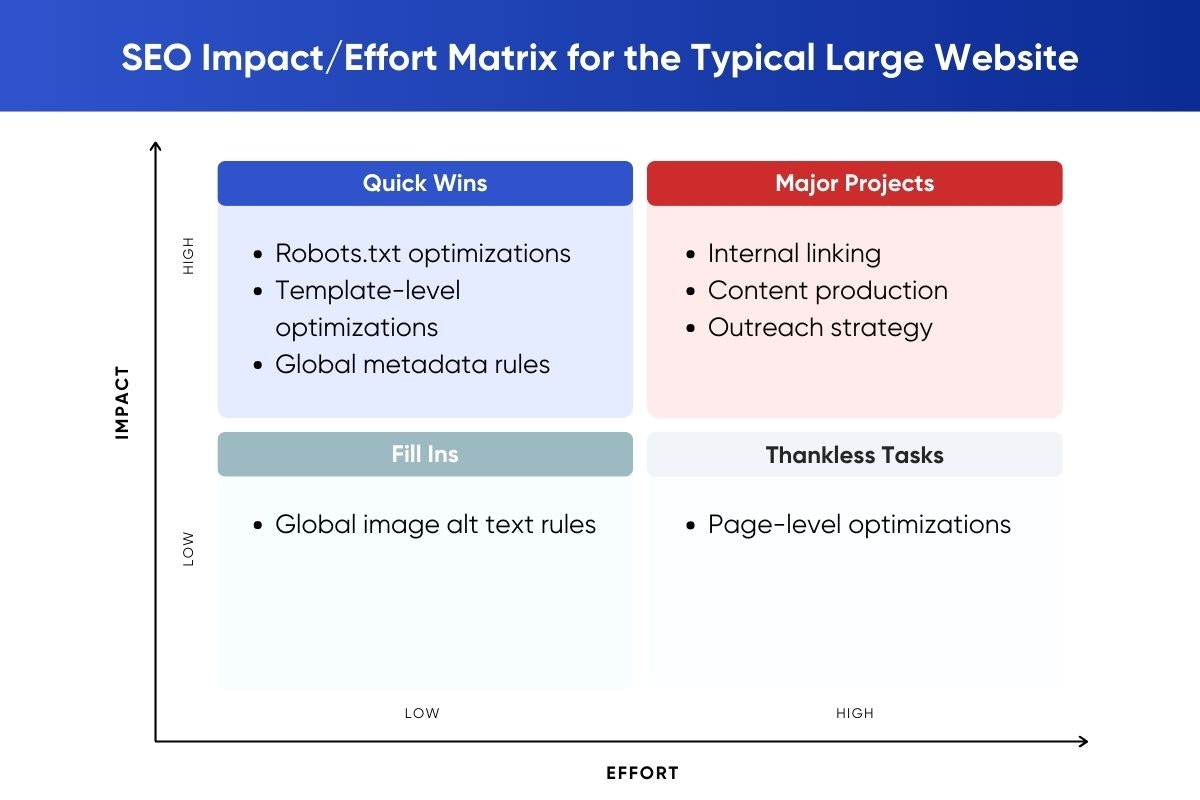 The approach we took with this client acknowledged these challenges and helped us get buy-in for our recommendations. Here's how we did it:
1. Check Your Internal Link Health
A healthy internal linking system is one in which searchbots can discover all of a website's indexable web pages via internal links alone. How on earth do you check that?
Mimic how searchbots crawl your website
Can searchbots successfully crawl your website using only your internal links? You can get the answer by mimicking how a searchbot crawls your website using Screaming Frog.
For IFTTT.com, a website with hundreds of thousands of indexable pages, we found that searchbots were only able to crawl 59 pages via the site's internal links. A record-scratch moment for Uproer and the client alike.
Here are tips for configuring this type of crawl:
Set the rendering preference to "text only"
Set the user-agent to Googlebot
Opt not to crawl JavaScript resources
Don't feed Screaming Frog the XML sitemap or allow it to auto-discover it via the robots.txt file
Initiate the crawl from the homepage
Other analyses can be helpful, and in some cases essential, for diagnosing internal linking issues, like:
Assuming your XML sitemap is complete and accurate, analyze its index coverage in Google Search Console. Check to see if you have pages not being indexed for the reason "Discovered - currently not indexed" or "Crawled - currently not indexed".
Analyze your crawl logs to identify which pages, and how many, have little to no crawl activity over a multi-day time period.
From the client's perspective
"I would say the biggest revelation from the engagement was the fact that our JS rendered links were preventing IFTTT.com from being effectively indexed and crawled. IFTTT.com has 100,000's of pages and it is vital these pages can be found via search. Based on Uproer's finding we are much more careful about how we design and build internal links across our many pages."

Peter Curley, Vice President Marketing @ IFTTT
2. Find the Root Causes
Once you've confirmed you have internal linking issues, here's advice for identifying the root causes and some common fixes.
JavaScript-Rendered Internal Links
In IFTTT's case, we discovered that their internal links were not present in the raw HTML. Instead, they were being rendered with JavaScript. Searchbots cannot execute JS files, which explains why our Screaming Frog crawl was a bust.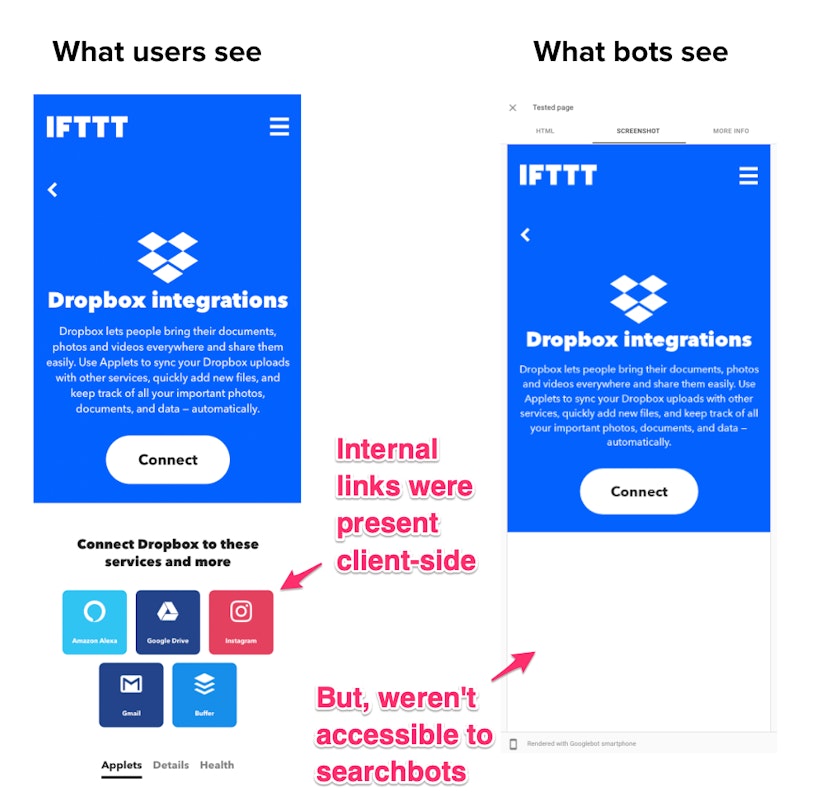 We've got an entire article on the topic of JavaScript's impact on SEO. It will walk you through the process of identifying JS-related SEO issues and give you possible solutions for your situation.
Orphaned Pages
It may be that your internal links are perfectly crawlable, but you're simply not linking to the pages you want to be indexed.
It's not enough to have an XML sitemap. You need internal links pointing to the pages that you want Google to pay attention to.
IFTTT's internal linking strategy had gaps. Many pages were not being linked to. This helped to explain why their index coverage reports in Google Search Console showed that the majority of pages in their XML sitemap weren't being indexed.
Other Areas to Dig Into
If you've checked the boxes above, here are some other things to investigate:
Inspect your robots.txt file to be sure it's not blocking key pages from being crawled
Make sure any internal links you want to be crawled do not have a "nofollow" attribute
Check with your webmaster or IT department to ensure that searchbots aren't being blocked at the server level
3. Size Up the Opportunity
For most, fixing internal link issues is not a simple task. It may require a sizable web development project, which can come at a big cost. Quantifying the value is critical to getting the buy-in you'll need for your recommendations.
Show the Opportunity Cost
What's the traffic and conversion opportunity that you're missing out on because of poor internal linking?
Extrapolate out the performance of your pages that are indexed (and, perhaps, have at least some crawlable internal links). Model out a few scenarios that illustrate the value to be gained given improvements to indexing.
Hypothetical: If we improve our indexing rate from 60% to 80%, we can expect a 15% lift in traffic which equates to $350,000 in annual conversion value.
Draw Competitive Comparisons
If you're being outpaced by a key competitor with a strong internal linking solution, use them to illustrate the importance of internal linking. Losing out on rankings, traffic, and conversions to a competitor can be a big motivator for action.
With IFTTT, we noticed a few emerging competitors encroaching on their keyword rankings and taking market share for relevant search demand. Following our internal link optimizations, we've been able to re-establish some distance from those players.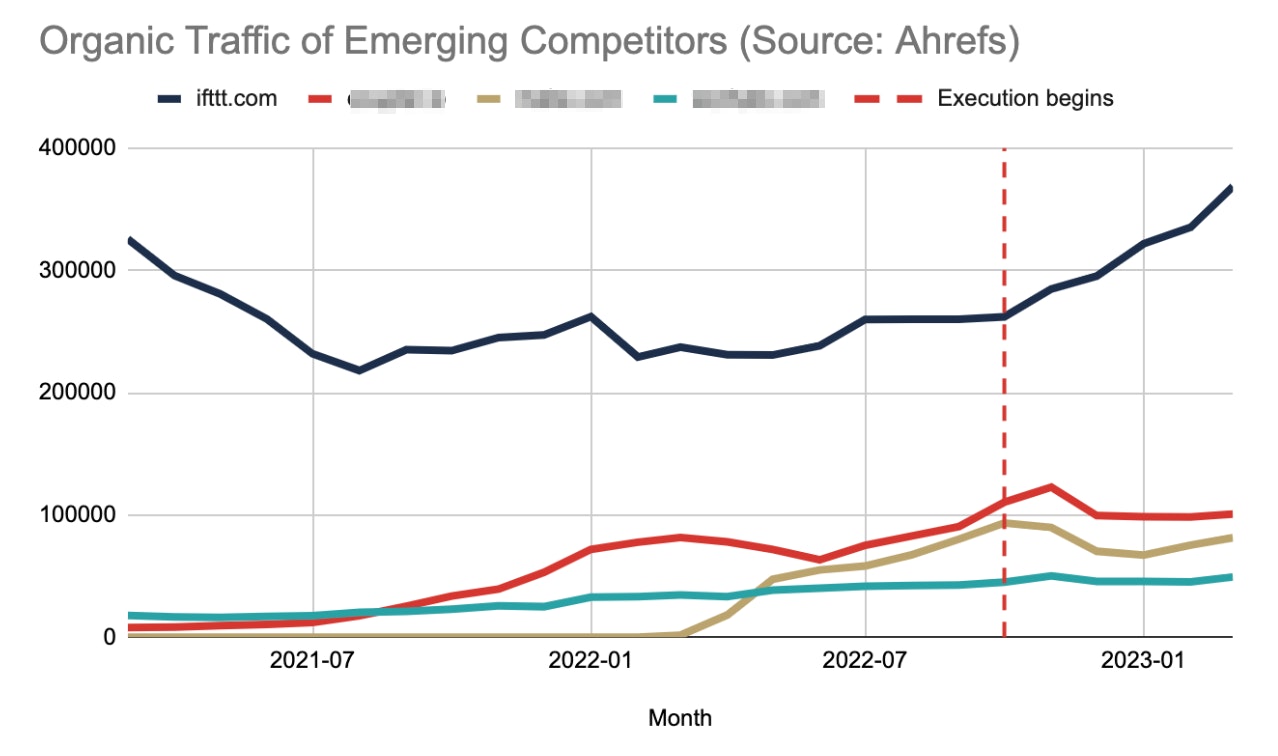 From the client's perspective
"IFTTT.com has always been our most important acquisition channel. While we were satisfied with our website's performance we sensed that there was even more opportunity. We just didn't know where to begin, or what to prioritize in terms of SEO. Uproer started with a complete audit, focusing on both the technical and content aspects of our site. This allowed us to understand what was working and what could be improved. We were also able to prioritize SEO initiatives in terms of resources and expected returns. This was particularly important because we are a small team trying to juggle many initiatives."

Peter Curley, Vice President Marketing @ IFTTT
4. Pursue a Continuous Improvement Plan
Internal linking improvements are not a one-and-done fix. The best plan is one where you start with the internal linking fixes with the best mix of feasibility & expected impact, then step back and evaluate.
Here are the tactics pursued with IFTTT and how we prioritized them.
Near-Term: Get Back to Basics with an HTML Sitemap
If you're old enough to remember the Web 1.0 era, you'll remember that every website had an HTML sitemap page. All of the site's pages were linked from this central location. Without the reliable search & navigation functions of today, these HTML sitemaps were critical to the user experience.
These relics of old-school websites have largely gone away. But, HTML sitemaps still work.
As far as search engines have come, they still explore the web using links. An HTML sitemap is typically a super feasible ask from a development perspective and can be an incredibly effective internal link asset.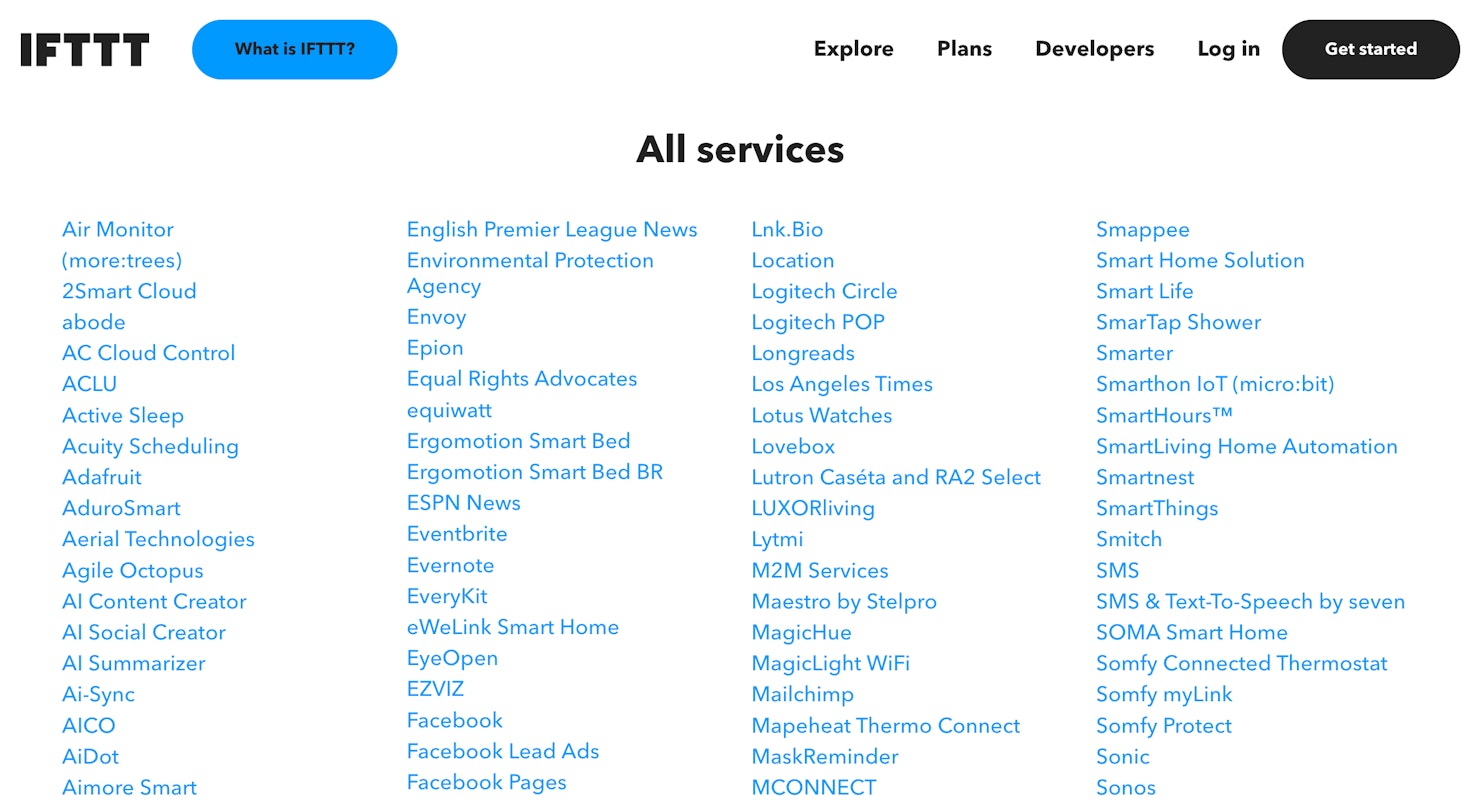 The launch of IFTTT's HTML sitemap delivered nearly a 3x increase in indexed pages in the span of two weeks. Don't doubt the power of an HTML sitemap!
Mid-Term: Introduce a Server-Side Rendering Solution
Now, an HTML sitemap is a solution, but it shouldn't be the solution. If your site's internal links are largely JavaScript-rendered, you'll need to introduce a server-side rendering (SSR) solution.
Thankfully, most JavaScript frameworks have tools available to make it relatively feasible for developers to implement an SSR solution.

IFTTT's engineers wasted no time implementing their SSR solution in what was probably the fastest sprint from recommendation to implementation that I've seen in my career.
However, in most cases, this type of implementation will take some time to scope, prioritize and develop. Expect this type of enhancement to take months rather than weeks.
Long-Term: Redesign Key Page Types to Include Internal Links
A lack of internal links altogether is going to have design - as well as development - implications.

Most likely, you're going to want to introduce sub-navigation systems into key page types that are currently doing a poor job of linking between their parent and child web pages.
Common sub-navigation solutions include:
Breadcrumb links
Sidebar navigation
Footer navigation
Design is an iterative process. Your next version is not likely to be your last version. Aim to improve key page types over time and establish SEO governance so that important internal linking systems aren't accidentally removed.
Long-Term: Pursue a Content Plan that Prioritizes Internal Linking
Internal links are an important ranking factor. They not only help your content get discovered and indexed, but they also help you build topical authority and improve your keyword rankings.
So, it's not enough to build internal links once or every once and a while. It should be a regular and ongoing activity in your SEO strategy, just like content production or performance analysis.
Content, like this round-up article for IFTTT, can be leveraged to build new and valuable internal links to pages with high SEO potential.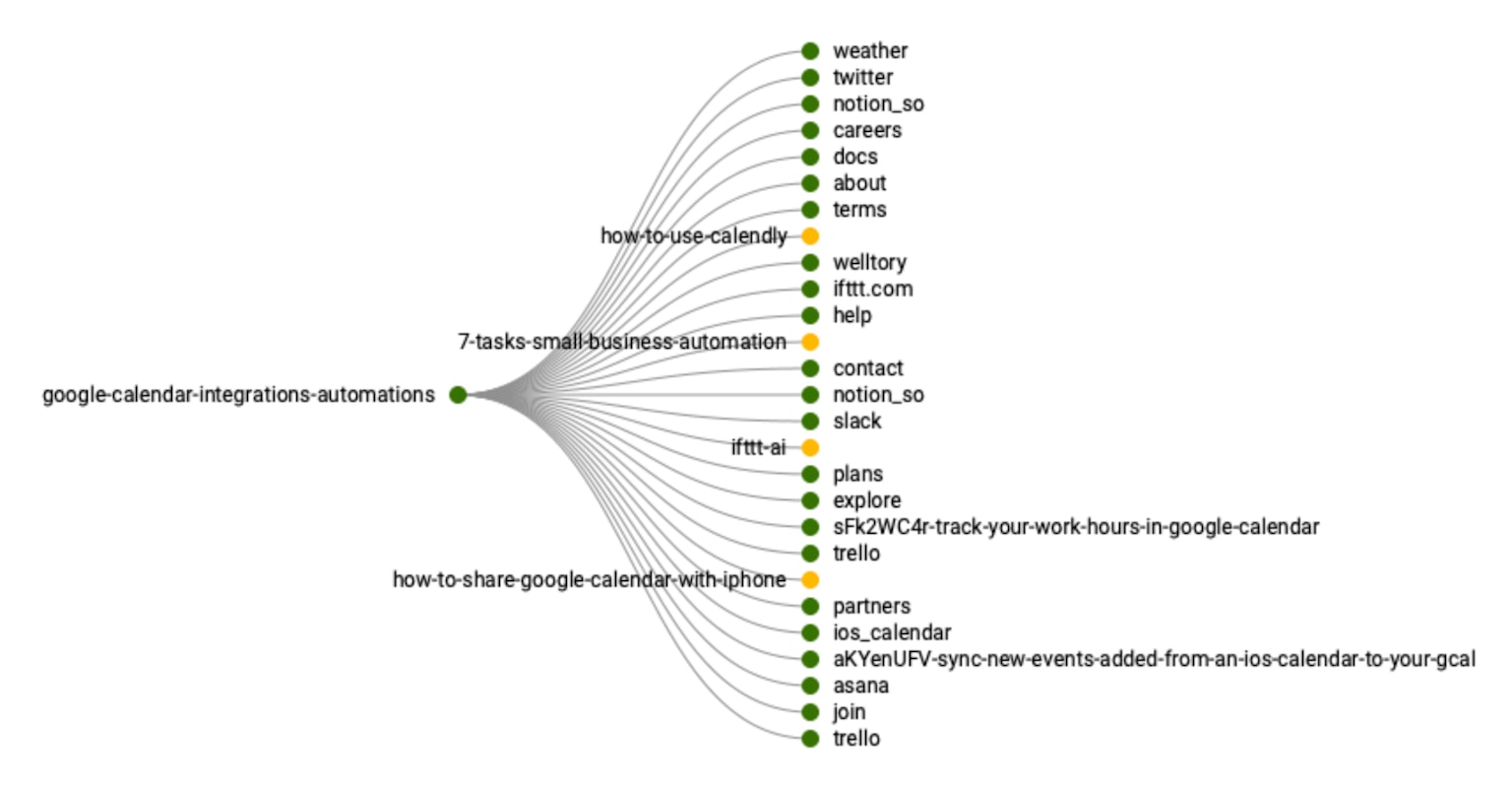 Make internal linking a proactive tactic in your content strategy and you'll realize SEO gains more quickly and efficiently.
From the client's perspective
"Uproer's "Outcome Driven SEO Roadmap" was created based on what we felt we could achieve within a 6-month time horizon. We're really happy with the results of the 6-month engagement so much so that we have extended it indefinitely. We're already seeing a significant increase in organic traffic to IFTTT.com"

Peter Curley, Vice President Marketing @ IFTTT
Links Rule the Web
In a world of sophisticated algorithms, machine learning, and AI, it can be easy to forget that search engines still rely on simple little links to get around.
This is why internal linking is the most overlooked and undervalued SEO tactic, particularly for SaaS companies. Without it, your keyword, content, and outreach strategies can only get you so far.
If you have a sneaking suspicion that poor internal linking is holding back the performance of your SaaS SEO strategy, then don't hesitate to drop us a line. We'd love to dig in.